Roll over image to zoom in
Click to open expanded view
$195.00
The complete solution for easily making fences of any types. The add-on includes easy to use constructor of fences, barriers, castles.
Please contact us if you have questions or ideas. Buy from the main website.
Create fences, barriers, castles spending a minimum of time. All you need to do is select the fence type you need and make a curve of the fence by points.
Features
Includes the library of fence types.
Easy to make own fence types.
Automatic connection of intersected fences.
Height difference.
Collision support.
Entrance example with physics support.
How to Use
Install Basic Materials.
Install the add-on.
Explore sample scenes.
Find demanded fence type, drop to the scene, configure a curve of the fence.
Technical support for 1 month is included.
Video
Screenshots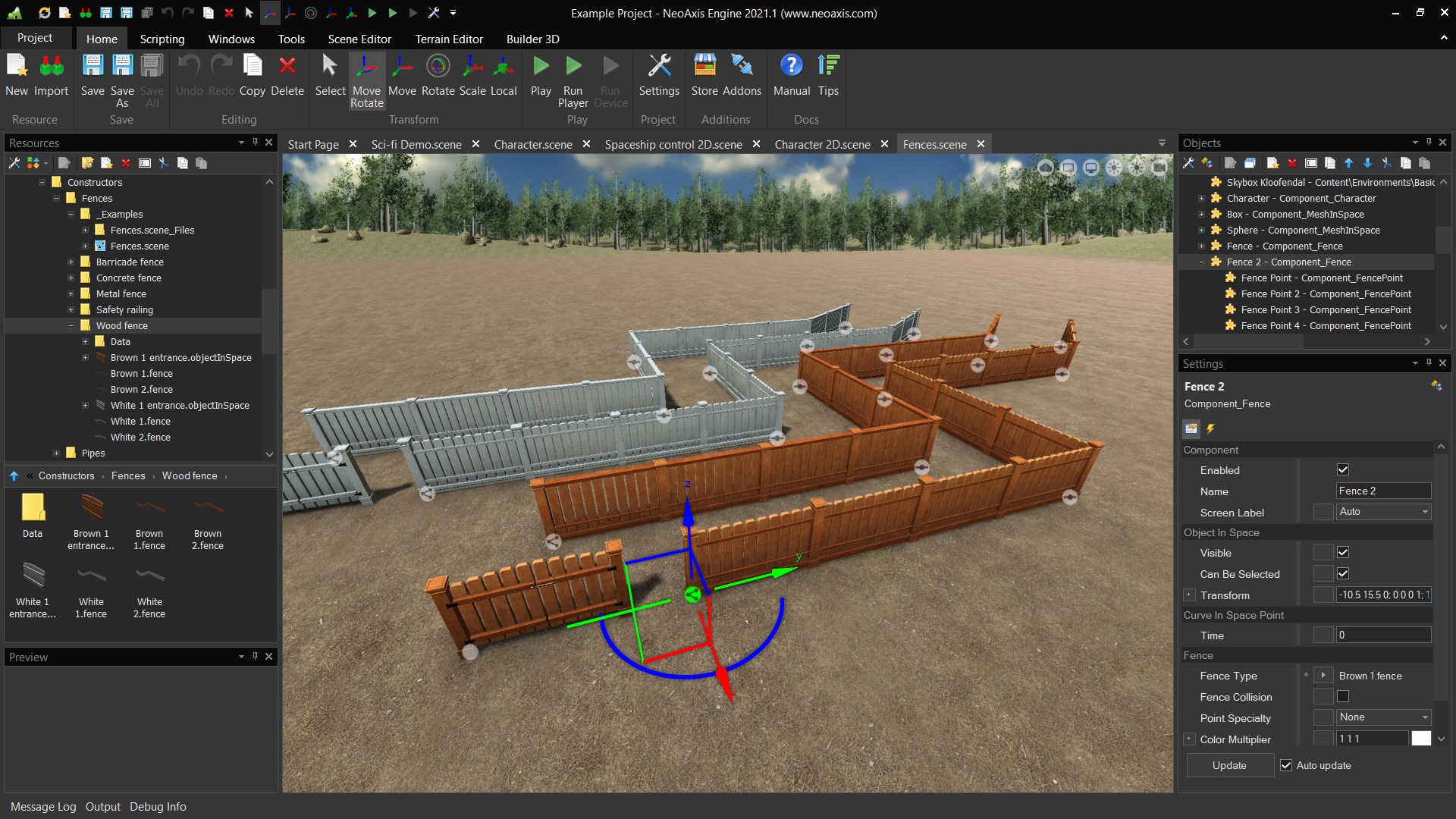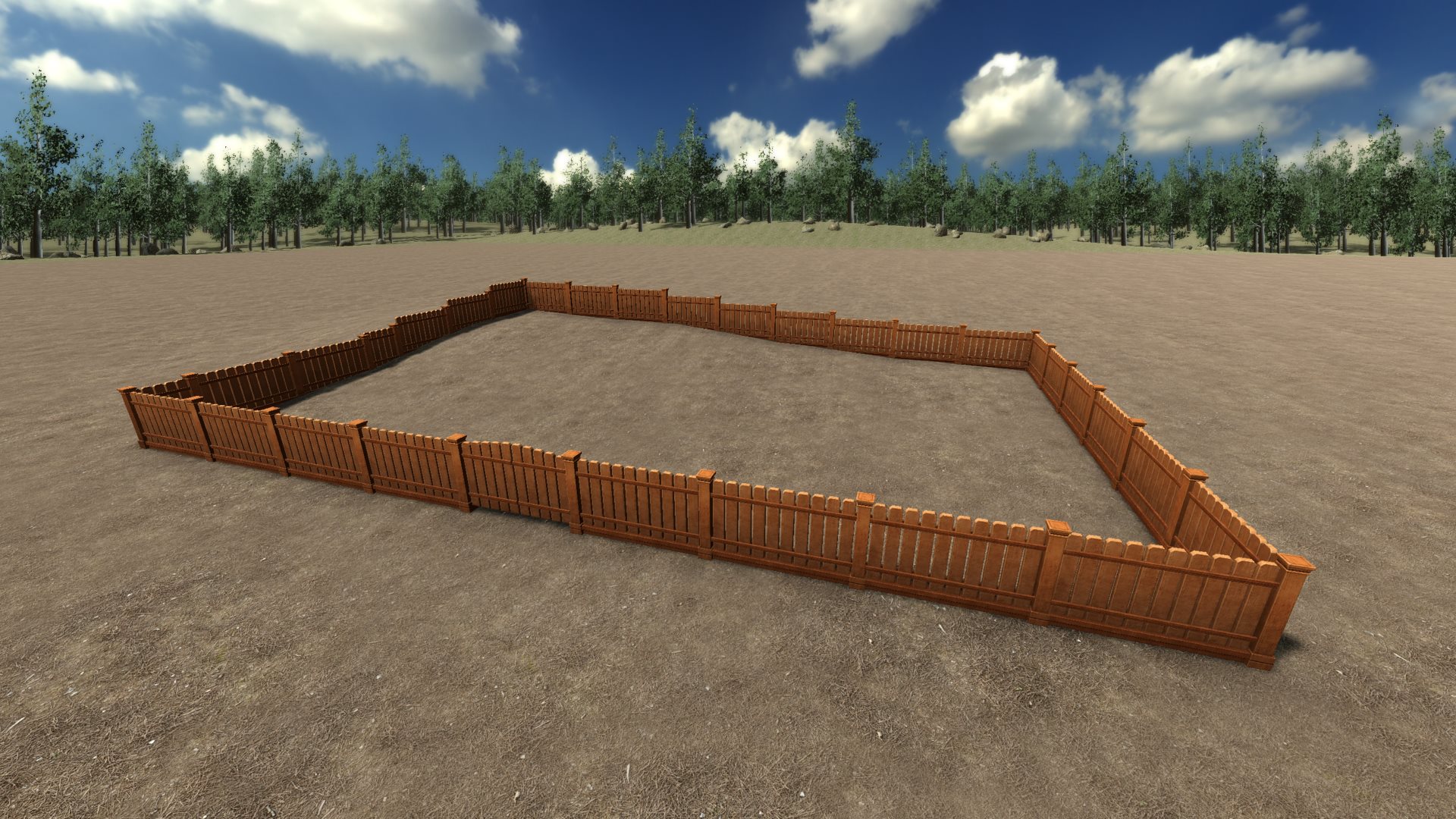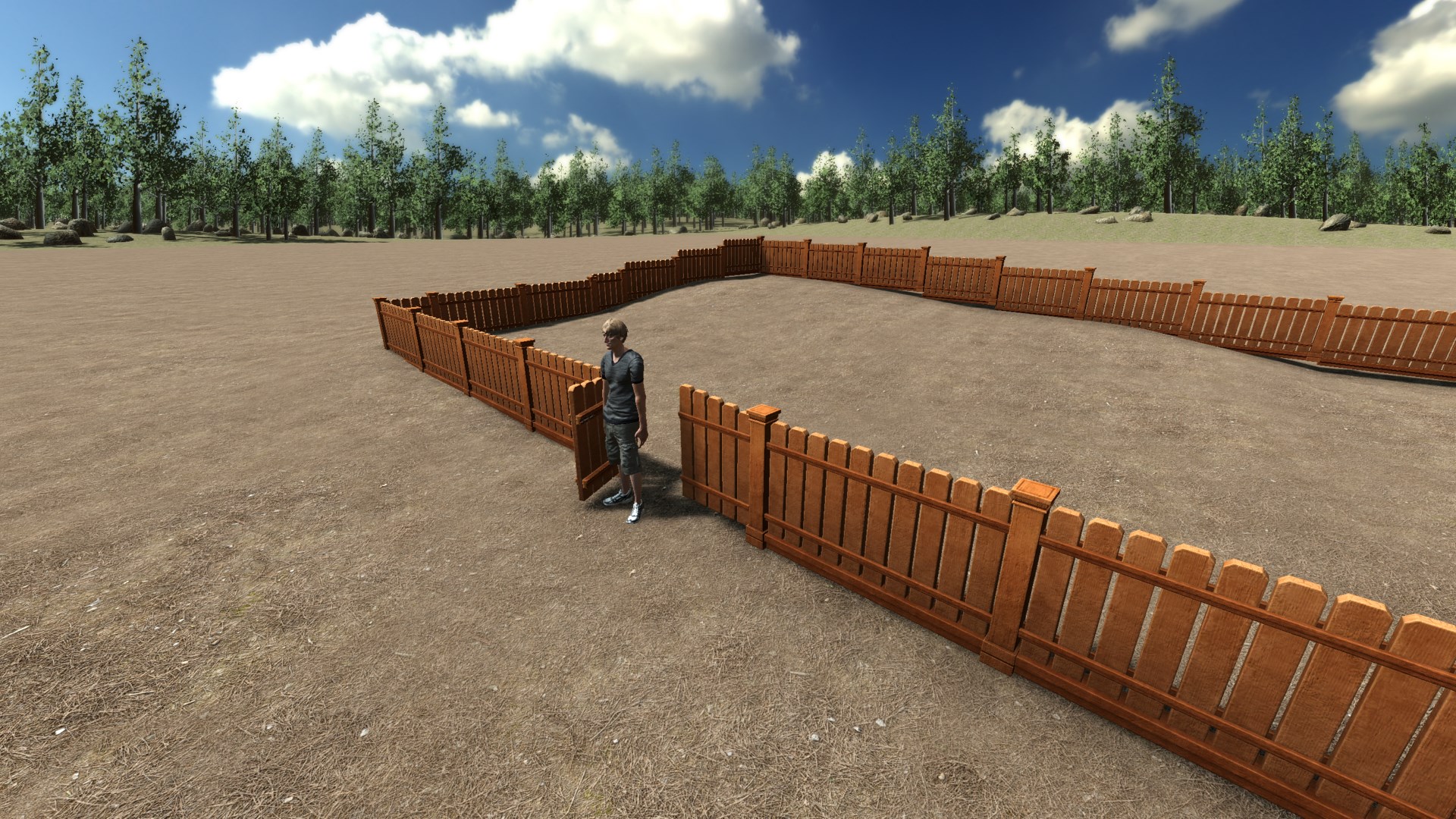 Many fence types is provided by the constructor. Wood fences: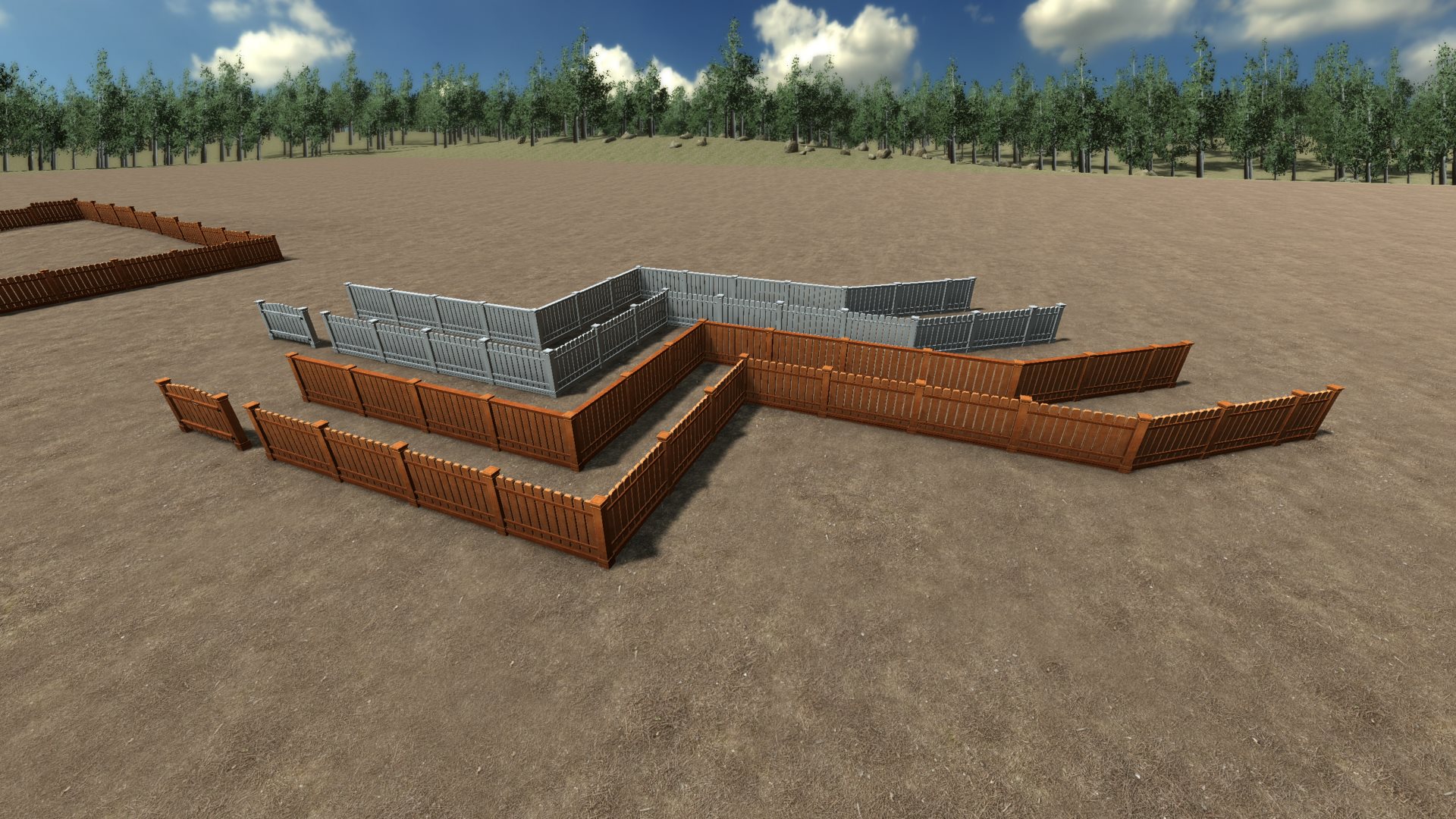 Metal black and white fences: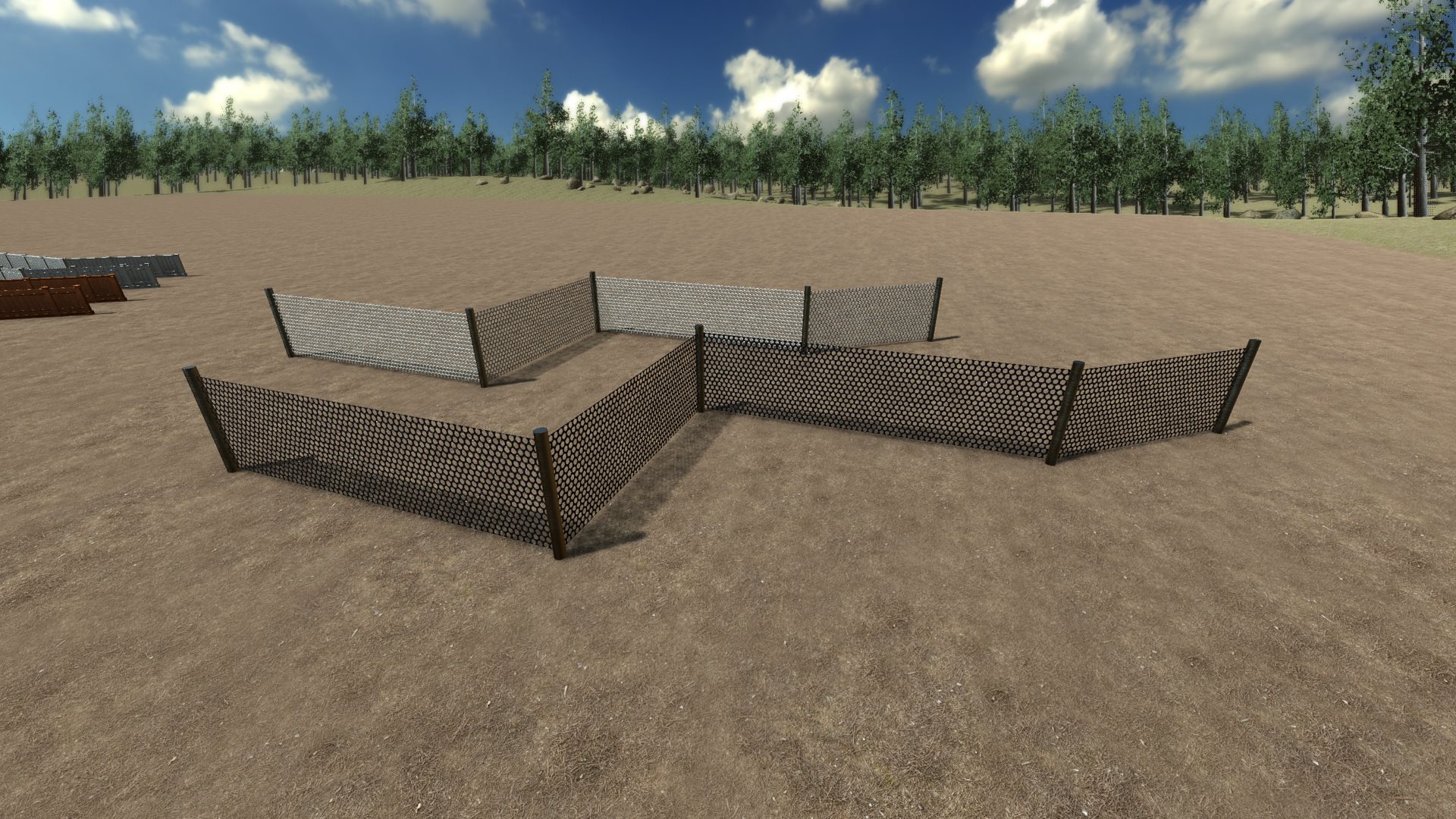 Safety railing: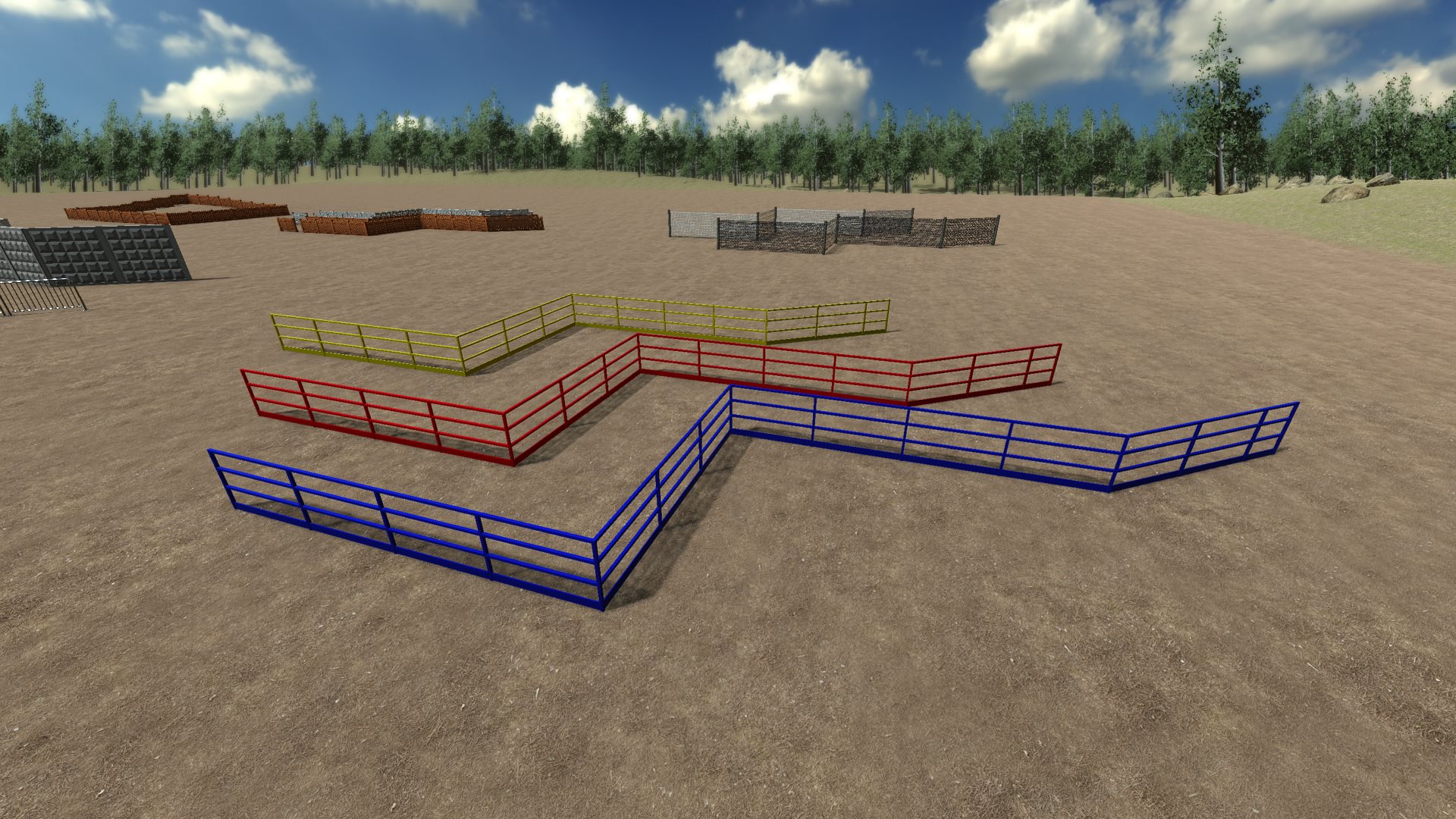 Concrete, barricade fences: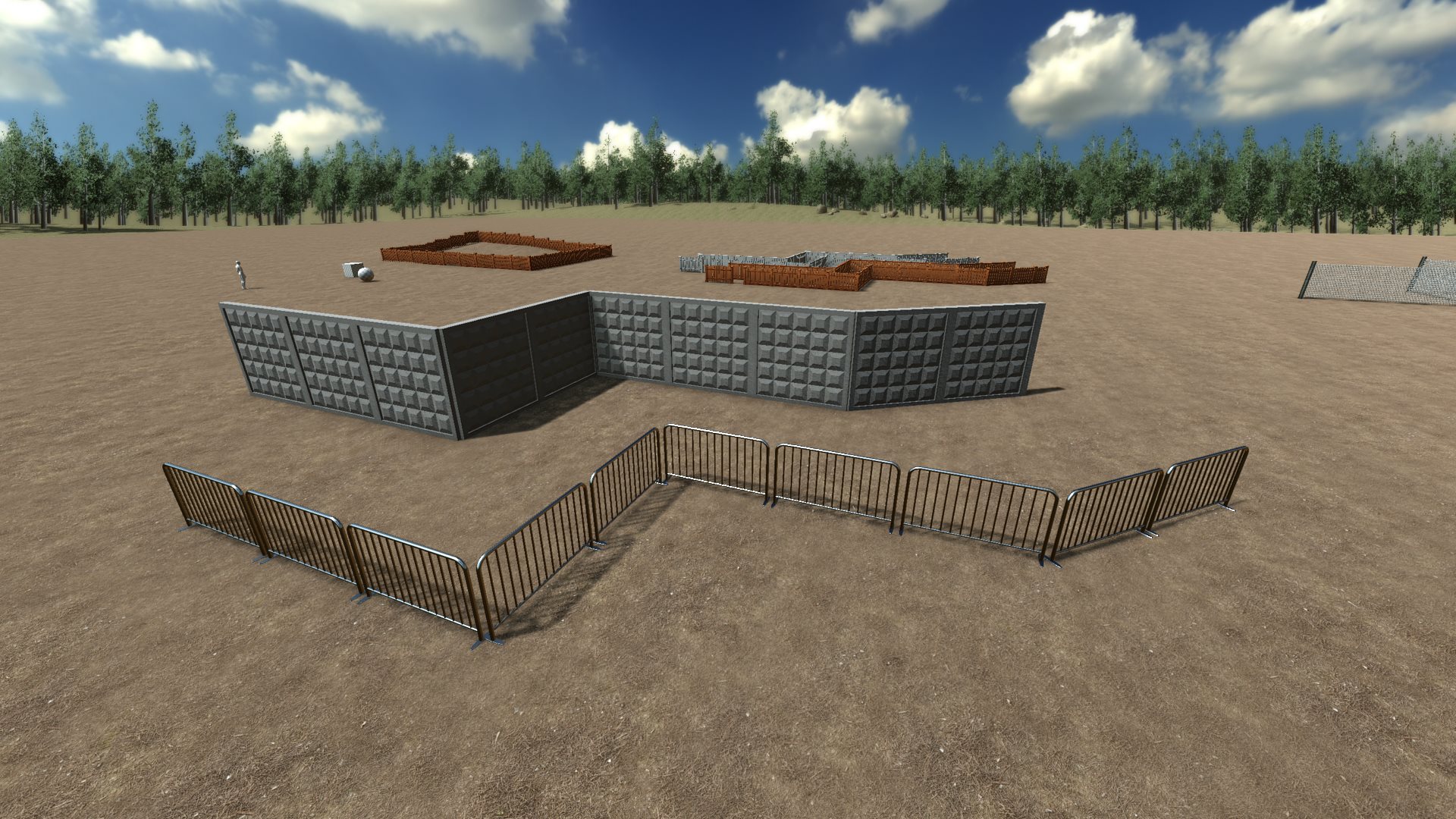 Assets/Content/Constructors/Fences/Barricade fence/Barricade.fence
Assets/Content/Constructors/Fences/Barricade fence/Data/mdl_fence_basic.fbx
Assets/Content/Constructors/Fences/Barricade fence/Data/mdl_fence_basic.fbx.settings
Assets/Content/Constructors/Fences/Concrete fence/Concrete.fence
Assets/Content/Constructors/Fences/Concrete fence/Data/Concrete fence.fbx
Assets/Content/Constructors/Fences/Concrete fence/Data/Concrete fence.fbx.settings
Assets/Content/Constructors/Fences/Concrete fence/Data/Sources/Concrete fence.blend
Assets/Content/Constructors/Fences/Metal fence/Black metal.fence
Assets/Content/Constructors/Fences/Metal fence/Data/Full panel white.fbx
Assets/Content/Constructors/Fences/Metal fence/Data/Full panel white.fbx.settings
Assets/Content/Constructors/Fences/Metal fence/Data/Full panel.fbx
Assets/Content/Constructors/Fences/Metal fence/Data/Full panel.fbx.settings
Assets/Content/Constructors/Fences/Metal fence/Data/Half panel white.fbx
Assets/Content/Constructors/Fences/Metal fence/Data/Half panel white.fbx.settings
Assets/Content/Constructors/Fences/Metal fence/Data/Half panel.fbx
Assets/Content/Constructors/Fences/Metal fence/Data/Half panel.fbx.settings
Assets/Content/Constructors/Fences/Metal fence/Data/Post.fbx
Assets/Content/Constructors/Fences/Metal fence/Data/Post.fbx.settings
Assets/Content/Constructors/Fences/Metal fence/Data/Quater panel white.fbx
Assets/Content/Constructors/Fences/Metal fence/Data/Quater panel white.fbx.settings
Assets/Content/Constructors/Fences/Metal fence/Data/Quater panel.fbx
Assets/Content/Constructors/Fences/Metal fence/Data/Quater panel.fbx.settings
Assets/Content/Constructors/Fences/Metal fence/Data/Sources/Full panel.blend
Assets/Content/Constructors/Fences/Metal fence/Data/Sources/Half panel.blend
Assets/Content/Constructors/Fences/Metal fence/Data/Sources/Post.blend
Assets/Content/Constructors/Fences/Metal fence/Data/Sources/Quater panel.blend
Assets/Content/Constructors/Fences/Metal fence/White metal.fence
Assets/Content/Constructors/Fences/Safety railing/Data/Floor.material
Assets/Content/Constructors/Fences/Safety railing/Data/Full panel.fbx
Assets/Content/Constructors/Fences/Safety railing/Data/Full panel.fbx.settings
Assets/Content/Constructors/Fences/Safety railing/Data/Half panel.fbx
Assets/Content/Constructors/Fences/Safety railing/Data/Half panel.fbx.settings
Assets/Content/Constructors/Fences/Safety railing/Data/Material.material
Assets/Content/Constructors/Fences/Safety railing/Data/Post.fbx
Assets/Content/Constructors/Fences/Safety railing/Data/Post.fbx.settings
Assets/Content/Constructors/Fences/Safety railing/Data/Quater panel.fbx
Assets/Content/Constructors/Fences/Safety railing/Data/Quater panel.fbx.settings
Assets/Content/Constructors/Fences/Safety railing/Data/Sources/Full and Post.blend
Assets/Content/Constructors/Fences/Safety railing/Data/Sources/Half.blend
Assets/Content/Constructors/Fences/Safety railing/Data/Sources/Quater.blend
Assets/Content/Constructors/Fences/Safety railing/Safety railing 1.fence
Assets/Content/Constructors/Fences/Wood fence/Brown 1 entrance.objectInSpace
Assets/Content/Constructors/Fences/Wood fence/Brown 1.fence
Assets/Content/Constructors/Fences/Wood fence/Brown 2.fence
Assets/Content/Constructors/Fences/Wood fence/Data/Brown/Entrance 1 door left.fbx
Assets/Content/Constructors/Fences/Wood fence/Data/Brown/Entrance 1 door left.fbx.settings
Assets/Content/Constructors/Fences/Wood fence/Data/Brown/Entrance 1 door right.fbx
Assets/Content/Constructors/Fences/Wood fence/Data/Brown/Entrance 1 door right.fbx.settings
Assets/Content/Constructors/Fences/Wood fence/Data/Brown/Entrance 1 hinge left.fbx
Assets/Content/Constructors/Fences/Wood fence/Data/Brown/Entrance 1 hinge left.fbx.settings
Assets/Content/Constructors/Fences/Wood fence/Data/Brown/Entrance 1 hinge right.fbx
Assets/Content/Constructors/Fences/Wood fence/Data/Brown/Entrance 1 hinge right.fbx.settings
Assets/Content/Constructors/Fences/Wood fence/Data/Brown/Frames.material
Assets/Content/Constructors/Fences/Wood fence/Data/Brown/Frames_MAT_BaseColor.jpg
Assets/Content/Constructors/Fences/Wood fence/Data/Brown/Frames_MAT_Normal.jpg
Assets/Content/Constructors/Fences/Wood fence/Data/Brown/Frames_MAT_Roughness.jpg
Assets/Content/Constructors/Fences/Wood fence/Data/Brown/Full panel 1.fbx
Assets/Content/Constructors/Fences/Wood fence/Data/Brown/Full panel 1.fbx.settings
Assets/Content/Constructors/Fences/Wood fence/Data/Brown/Full panel 2.fbx
Assets/Content/Constructors/Fences/Wood fence/Data/Brown/Full panel 2.fbx.settings
Assets/Content/Constructors/Fences/Wood fence/Data/Brown/Half panel 1.fbx
Assets/Content/Constructors/Fences/Wood fence/Data/Brown/Half panel 1.fbx.settings
Assets/Content/Constructors/Fences/Wood fence/Data/Brown/Half panel 2.fbx
Assets/Content/Constructors/Fences/Wood fence/Data/Brown/Half panel 2.fbx.settings
Assets/Content/Constructors/Fences/Wood fence/Data/Brown/Planks.material
Assets/Content/Constructors/Fences/Wood fence/Data/Brown/Planks_MAT_BaseColor.jpg
Assets/Content/Constructors/Fences/Wood fence/Data/Brown/Planks_MAT_Metallic.jpg
Assets/Content/Constructors/Fences/Wood fence/Data/Brown/Planks_MAT_Normal.jpg
Assets/Content/Constructors/Fences/Wood fence/Data/Brown/Planks_MAT_Roughness.jpg
Assets/Content/Constructors/Fences/Wood fence/Data/Brown/Post.fbx
Assets/Content/Constructors/Fences/Wood fence/Data/Brown/Post.fbx.settings
Assets/Content/Constructors/Fences/Wood fence/Data/Sources/Entrance 1.blend
Assets/Content/Constructors/Fences/Wood fence/Data/Sources/Entrance 1.blend1
Assets/Content/Constructors/Fences/Wood fence/Data/Sources/Entrance 2.blend
Assets/Content/Constructors/Fences/Wood fence/Data/Sources/Full panel 1.blend
Assets/Content/Constructors/Fences/Wood fence/Data/Sources/Full panel 2.blend
Assets/Content/Constructors/Fences/Wood fence/Data/Sources/Half panel 1.blend
Assets/Content/Constructors/Fences/Wood fence/Data/Sources/Half panel 2.blend
Assets/Content/Constructors/Fences/Wood fence/Data/Sources/Post.blend
Assets/Content/Constructors/Fences/Wood fence/Data/Sources/Source.txt
Assets/Content/Constructors/Fences/Wood fence/Data/White/Entrance 1 door left.fbx
Assets/Content/Constructors/Fences/Wood fence/Data/White/Entrance 1 door left.fbx.settings
Assets/Content/Constructors/Fences/Wood fence/Data/White/Entrance 1 door right.fbx
Assets/Content/Constructors/Fences/Wood fence/Data/White/Entrance 1 door right.fbx.settings
Assets/Content/Constructors/Fences/Wood fence/Data/White/Entrance 1 hinge left.fbx
Assets/Content/Constructors/Fences/Wood fence/Data/White/Entrance 1 hinge left.fbx.settings
Assets/Content/Constructors/Fences/Wood fence/Data/White/Entrance 1 hinge right.fbx
Assets/Content/Constructors/Fences/Wood fence/Data/White/Entrance 1 hinge right.fbx.settings
Assets/Content/Constructors/Fences/Wood fence/Data/White/Frames.material
Assets/Content/Constructors/Fences/Wood fence/Data/White/Full panel 1.fbx
Assets/Content/Constructors/Fences/Wood fence/Data/White/Full panel 1.fbx.settings
Assets/Content/Constructors/Fences/Wood fence/Data/White/Full panel 2.fbx
Assets/Content/Constructors/Fences/Wood fence/Data/White/Full panel 2.fbx.settings
Assets/Content/Constructors/Fences/Wood fence/Data/White/Half panel 1.fbx
Assets/Content/Constructors/Fences/Wood fence/Data/White/Half panel 1.fbx.settings
Assets/Content/Constructors/Fences/Wood fence/Data/White/Half panel 2.fbx
Assets/Content/Constructors/Fences/Wood fence/Data/White/Half panel 2.fbx.settings
Assets/Content/Constructors/Fences/Wood fence/Data/White/Planks.material
Assets/Content/Constructors/Fences/Wood fence/Data/White/Post.fbx
Assets/Content/Constructors/Fences/Wood fence/Data/White/Post.fbx.settings
Assets/Content/Constructors/Fences/Wood fence/Data/White/WFrames_MAT_BaseColor.jpg
Assets/Content/Constructors/Fences/Wood fence/Data/White/WFrames_MAT_Normal.jpg
Assets/Content/Constructors/Fences/Wood fence/Data/White/WFrames_MAT_Roughness.jpg
Assets/Content/Constructors/Fences/Wood fence/Data/White/WPlanks_MAT_BaseColor.jpg
Assets/Content/Constructors/Fences/Wood fence/Data/White/WPlanks_MAT_Metallic.jpg
Assets/Content/Constructors/Fences/Wood fence/Data/White/WPlanks_MAT_Normal.jpg
Assets/Content/Constructors/Fences/Wood fence/Data/White/WPlanks_MAT_Roughness.jpg
Assets/Content/Constructors/Fences/Wood fence/White 1 entrance.objectInSpace
Assets/Content/Constructors/Fences/Wood fence/White 1.fence
Assets/Content/Constructors/Fences/Wood fence/White 2.fence
Assets/Content/Constructors/Fences/_Samples/Fences.scene
Assets/Content/Constructors/Fences/_Samples/Fences.scene_Files/$Terrain/Heightmap.exr
Binaries/NeoAxis.Addon.Fence.dll
Binaries/NeoAxis.Addon.Fence.pdb
Binaries/NeoAxis.Addon.Fence.xml